Exhibitions 2012 and earlier
Exhibitions 2011 and earlier in Museum of Ixelles: Olivier Debré, Explosition, Non, pas ce soir, Dubuffet, Pierre Lahaut, Paul Delvaux, El Cubismo, Close-up, 10 years of acquisitions, From Dürer to Jan Fabre, Paul Delvaux, Discover each other through water, Annabella Guetatra - Jen Hesse, Steinlen, Jacques Guilmot, Fading, La photographie n'est pas l'art, Painters of the Forêt de Soignes...
YEAR 2012

Spring 2012
LA BELLE ÉPOQUE DE JULES CHÉRET. From posters to decor
01.03 > 20.05.2012
JULES CHÉRET is an important artistic and literary figure of the BELLE ÉPOQUE. Inventor of the modern poster, he was also an influential illustrator, commercial artist, painter, decorator, lithographer and printer. Through his prolific production of colour posters, he transformed the urban landscape by taking art to the streets. This original CHÉRET exhibition presented several aspects of his career as poster designer, painter and decorator.
Catalogs (FR):
Réjane Bargiel, Ségolène Le Men, La Belle Époque de Jules Chéret, De l'affiche au décor
Les arts décoratifs, 30 x 23 cm, 365 pages, 59€
La Belle Époque de Jules Chéret, De l'affiche au décor (fascicule)
Les arts décoratifs, 9,50€
NICOLAS ROZIER. Tombeau pour les rares
23.03 > 15.04.2012
NICOLAS ROZIER draws his inspiration from artists such as Villon, Baudelaire and Artaud to create this introspective portrait series, entitled Tombeau pour les rares. Rozier's twenty-seven portraits of deceased authors are juxtaposed to texts written by twenty-seven living authors who wrote about their exceptional counterparts.
This exhibition invited you to experience the powerfully fragile universe of these authors seen through the eyes of Rozier.
PIETER GEENEN. Winner ArtContest 2011
20.04 > 20.05.2012
The Museum of Ixelles was proud to welcome the winner of ART'CONTEST 2011. Rooted in a long tradition of landscape art, Pieter Geenen questions the landscape as a bearer of meaning. Through his audiovisual productions, Geenen examines the suggestive and evocative qualities of landscapes in different geopolitical and geosocial realities.

Summer 2012
POP-UP, Artistic links
21.06 > 09.09.2012
POP-UP, Artistic links offered an original and interactive overview of contemporary Belgian art. From a selection of works recently acquired by the Museum of Ixelles, such artists were invited to present another of their creations. In an attempt to open up the spectrum further, they presented a young artist of their choice. Visitors elected their favourite and the Museum of Ixelles offered the winner a solo exhibition in 2013. A wonderfully diverse vision of contemporary art.
Including works of Sven Augustijnen, Stephan Balleux, Lucile Bertrand, Bonom, Bert De Beul, Edith Dekyndt, Felten- Massinger, Michel François, Geert Goiris, Gauthier Hubert, Xavier Mary, Denis Meyers, Jean-Luc Moerman, Hans Op de Beeck, Benoît Plateus, Walter Swennen, The Plug, Harold Thys & Jos De Gruyter, Jan Van Imschoot, Freek Wambacq, Cindy Wright…
ALFRED COURTENS. Sculptor
21.06 > 09.09.2012
This exhibition was an intimate and complete discovery of the work of Belgian artist Alfred Courtens (1889-1967). Known primarily for his dynastic portraits, busts of officials and monumental equestrian works, the exhibition also revealed new aspects: drawings, pastels, medals, bas reliefs, charming maternal figures, feminine, childish and naturalistic busts as well as energetic Art Deco portraits and figures.

Fall 2012
BELGIAN ART: A MODERN CENTURY . Collection Caroline & Maurice Verbaet
11.10.2012 > 20.01.2013

The exhibition BELGIAN ART: A MODERN CENTURY presented a selection of exclusive and original works of prestigious Belgian art from the private collection of Caroline & Maurice Verbaet. Paintings, sculptures and graphic works invited us to discover - or rediscover - Belgian art through the eyes of two remarkably sharp collectors.
With works by : Félicien Rops, Fernand Khnopff, James Ensor, Georges Minne, Léon Spilliaert, Rik Wouters, Fritz Van den Berghe, Constant Permeke, Floris et Oscar Jespers, Jules Schmalzigaug, Jean Brusselmans, Victor Servranckx, René Magritte, Paul Delvaux, Pierre Alechinsky, Jo Delahaut, Panamarenko, Jan Fabre…
Catalog (DU):
PAUL DELVAUX. Paths of creation
11.10.2012 > 20.01.2013
Resulting from lengthy preparations, many drawings and sketches developed by Paul Delvaux preceded his painted masterpieces. PAUL DELVAUX, Paths of creation provided a unique insight into the creation of Delvaux's major works, allowing a behind the scenes peek at this famous Belgian painter.
ROLAND DELCOL
16.11 > 30.12.2012
Figurehead of Belgian hyperrealism, friend of the famous writer and surrealist poet Louis Scutenaire (1905-1987), ROLAND DELCOL (Brussels, 1942) delivered work that tackles simple reality head on. Charged with eroticism and a curious sense of humour, Delcol magnifies the world of female nudity staged in a disconcerting way. He aspires to discover a paradise lost in the heart of consumerism of the second half of the twentieth century.
A revealing exhibition presenting work that is powerful, poetic and unusual.
> Check out the full list of available books at the Museum of Ixelles

YEAR 2011

Spring 2011
OLIVIER DEBRÉ. Un abstrait lyrique. Rétrospective
24.02 > 15.05.2011
The exhibition invited you to discover the work of this French painter Olivier Debré. He is one of the principal representatives of lyrical abstracts in Europe, alongside Hans Hartung, Pierre Soulages and Serge Poliakoff.
From his early works, influenced by Picasso, to his last abstract landscapes, partly monochrome, Debré creates monumental art, which the large size offer an infinite panoramic vision. He sensitively interprets the nature, the beauty and the energy of the landscape and its relationship with Man.
"I'm not a landscape designer, I express the emotion of the landscape but not the landscape itself."
Alongside this exhibition, a photographic documentary Marc Deville recounted the creation of the drop cloth of the new Shanghai Opera. He revealed the creative force of Debré and the incredible destiny of this artist.
Catalog:
Catalogne OLIVIER DEBRE, Eric de Chassey et Lydia Harambourg,
Expressions contemporaines (FR/EN)

Summer 2011
EXPLOSITION. Brussels graffiti art
16.06 > 04.09.2011

Catalog Dehors, Adrien Grimmeau, CFC Editions
- no longer available at the bookshop of the Museum of Ixelles
Explosition accepts the unprecedented challenge: welcome to the graffiti gallery! Twenty five years of urban art is highlighted by the Museum of Ixelles. An atypical and explosive exhibition breaking the boundaries of creation to reveal the trends born of the streets.
With works by Bonom, Byz, Defo, Diogène, Eyes B, Sozyone Gonzalez, Hell'O Monsters, Koor, Jean-Luc Moerman, Obêtre, Parole, Plug, Arne Quinze and many others.
NON, PAS CE SOIR. The publishing house la trame celebrates its 10th anniversary
16.06 > 04.09.2011
Creating is resisting, Gilles Deleuze
The Belgian and foreign artists, either well-known or worth discovering, presented* at the Museum have all participated in publications of la trame: frontière, le temps, l'engagement, la puissance de l'inertie, non, pas ce soir... either linked through a show, a peculiar performance or a publication in which philosophers, scientists and writers co-operated in "intrepid juxtapositions".
*Hélène Amouzou, Elodie Antoine, Bachelot / Caron, Lucile Bertrand, Annick Blavier, Louise Bourgeois, Felten/Massinger, Anne Fontenelle, Filip Francis, Pélagie Gbaguidi, Anne de Gelas, Jérôme Giller et Nolwenn Dequiedt, Michel Hanique, Anne Lefebvre, Daniel Locus, Sandrine Lopez, Karine Marenne, Patricia et Marie-France Martin, Cécile Massart, Kumi Oguro, Kevin Reynaert, Studio 21 bis, Bob Verschueren, Bernard Villers and Dorothée Wycart.

Fall 2011
DUBUFFET. Architect
20.10.2011 > 22.01.2012
A major artist of the twentieth century, Jean Dubuffet was a painter, designer and sculptor, but he also devoted himself to the theatre, literature, music and architecture. Previously unseen, the exhibition DUBUFFET, architect discussed this unexplored aspect of his prolific career and invited you to encounter the unique three-dimensional universe and amazing work of Jean Dubuffet.
Catalog:
Catalog Dubuffet Architecte, Daniel Abadie, Edition Hazan Eds (FR/EN)
PIERRE LAHAUT. Homage
20.10.2011 > 22.01.2012
To celebrate his 80th birthday and the release of a magnificent book published by Fonds Mercator, the exhibition paid tribute to this prolific artist. It showed his multiple talents as a painter, draftsman, watercolorist and pastel artist as well as his sensitive and enigmatic predilection for abstraction giving rise to works of great poetic force.
> Check out the full list of available books at the Museum of Ixelles

YEAR 2010

Spring 2010
EL CUBISMO. Cubism and its context
05.02 > 25.04.2010
Since 1983, the Telefónica Foundation (Madrid) has acquired works of quality in modern and contemporary art. It has an internationally recognized collection, within which the cubist movement is strongly represented. The whole of this collection includes and appreciates the work of French, Spanish and Latin American artists between 1907 and 1924.
The exhibition el Cubismo gave you the chance to discover many artists including those lesser known in this discipline. Juan Gris, Auguste Herbin, Natalia Gontcharova, Andre Lhote were exhibited alongside Albert Gleizes, Rafael Barradas and Louis Marcoussis.
These painters were discovered through their portraits, still life and landscapes: compositions pushing the boundaries of abstraction.

Summer 2010
CLOSE-UP.  The summer of photography
25.05 > 05.09.2010
The Museum of Ixelles has a sumptuous collection of hundreds of photographic prints, a collection that began in the 1970s under the leadership of curator Jean Coquelet, himself a photographer.
For the first time, the exhibition 'Close Up' presents work from mostly Belgian artists inspired by the female nude, the urban landscape, organic elements and effects of material.
Many of them have made photography their only means of expression, creating their own style. For other artists the medium is used like any other, each interpreting in their own way.
Prints from photographers Lucien Clergue, Gilbert De Keyser, Gilbert Fastenaekens, Robert Morian, Marie-Françoise Plissart and Marc Trivier adorn the picture rails alongside photographic works by Dirk Braeckman, Michel François, Wim Delvoye and Marie-Jo Lafontaine.
10 YEARS OF ACQUISITIONS (Collection of the Museum of Ixelles)
25.05 > 05.09.2010
The Museum of Ixelles, like all great museums, enriches its collections through a dynamic acquisition policy.  New work complements the historic collection and allows the museum to encourage promising young artists.
An acquisition committee comprising of art experts meets annually, allowing the museum to expand its collections through purchases financed by the municipality of Ixelles.  Many donations and bequests complement these purchasing decisions. Thus, visitors can enjoy contemporary works recently acquired, as well as paintings and sculptures from the last century: Rik Wouters, James Ensor, Lismonde Panamarenko, Pol Bury and Stéphane Balleux.
FROM DÜRER TO JAN FABRE. Masterpieces
25.05 > 05.09.2010
The Museum of Ixelles invited you to discover From Dürer to Jan Fabre: Masterpieces which presented some of the most esteemed works of its collection.
From Albrecht Dürer to Jan Fabre and everything impressive inbetween, you found James Ensor, Henri de Toulouse-Lautrec, Théo Van Rysselberghe, Constant Permeke, Gustave de Smet, Pierre Alechinsky, Auguste Rodin, Francis Picabia, Pablo Picasso, Joan Miró and Ann Veronica Jansen.

Fall 2010
PAUL DELVAUX. Starting points
01.10.2010 > 16.01.2011
The exhibition Paul Delvaux, Starting Points presented a new approach to this famous Belgian surrealist by showing the dialogue between his work and the artists who influenced him. The visual world of Paul Delvaux, like all artists, was formed due to a variety of influences throughout his career. Being close to his first Masters and by developing various aesthetic affinities, Paul Delvaux took inspiration from these contacts to develop his own original style.
Catalog (FR/DU):
Laura Neve, Paul Delvaux : Starting points
Editions Racine, 29,95 €
DISCOVER EACH OTHER THROUGH WATER
01.10.2010 > 16.01.2011
An international competition organised by the commune of Ixelles, 'Discover Each Other Through Water', enabled the museum to present the works of both amateur and professional artists from eight cities around the world: Biarritz (France), Cascaiïs (Portugal), Kalamu ( DRC), Megiddo (Israel), Mizil (Romania), Zababdeh (Palestine) and the town of Zacharo (Greece).  Artists were asked to express their vision of each other through the theme of water.  The aim was to raise awareness of these places, highlighting development issues and creating a rich and interactive discussion on international solidarity and North-South relations.
ANNABELLA GUETATRA - JENS HESSE. Prize Marie-Louise Rousseau 2010
19.11.2010 > 16.01.2011
The Museum of Ixelles presents the works of Annabelle Guetatra, winner of the 2010 Marie-Louise Rousseau Award and Jens Hesse, the second prize winner.
The Marie-Louise Rousseau Award began in 1986 through a bequest in favour of the municipality of Ixelles.  Its purpose was to reward the winner of a painting competition.  In today's context of increasingly complex and technological developments where creativity takes the form of installations, video, digital art and photography, this award simply honours the use of paint.
The Museum of Ixelles welcomes these two artists from 19 November 2010 to 16 January 2011.

YEAR 2009

Spring 2009
STEINLEN. The eye of the street
12.03 > 30.05.2009
Steinlen is famous today for his posters, scenes of the daily life and especially for his cats. Other facets of his talent are, however, less known: his great still life works, his nudes, his incisive portraits, his landscapes of Switzerland, France and Norway, as well as all his work devoted to the First World War. This retrospective joined together works and new documents originating from many private and public collections.
Catalog (FR):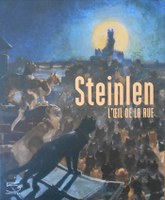 Théophile-Alexandre Steinlen, L'oeil de la rue, Edition 5 Continents Eds
JACQUES GUILMOT. Sculptures
12.03 > 30.05.2009
Self taught but possessing the traditional knowledge of a professional, Jacques Guilmot was born in Soignies, and born to be a sculptor.
He worked with marble, but had a preference for the blue stone of Soignies and the black, hard, brittle stone of Mazy.  Knowing the intricacies of the mineral world, he respected the material, its hardness, weight and density, and understood how to create from it.  At first, pieces consisted of very simple shapes such as cylinders, spheres, cubes, squares and discs: very abstract works built purely and simply, calling for calm and serenity.
All the exhibits have come from Guilmot's workshop.  The exhibition is a tribute to this recently deceased artist and a celebration of the recent acquisition of a Soignies stone sculpture.

Summer 2009
FADING
25.06 > 13.09.2009
Fading brought together the work of 40 Belgian contemporary artists, all of them active on the international art scene. Fading examined how these artists derived from their own critical expression from today's multimedia society, exploring the limits of fading in the pictorial space. The exhibition and the book compared the various artistic dimensions involved in the reconstruction of the image.
Catalog (EN):
Fading : Quarante artistes contemporains belges, Musée d''Ixelles, Édition SNOECK

Fall 2009
PHOTOGRAPHY IS NOT ART. Collection Sylvio Perlstein
29.10.2009 > 10.01.2010
Sylvio Perlstein, a diamond jeweller from Antwerp, is one of the major, and most discrete, art collectors.  Dividing his time between Europe, the United States and Brazil, he surrounds himself with an exceptional collection of modern and contemporary art in which the photograph occupies a prominent place.
He is passionate about three key moments in the history of photography: 1920-1930 photography, conceptual photography from 1960-1970 and contemporary photography.
The exhibition offers a wealth and diversity of more than two hundred original prints from 1920s to the present day, including famous masterpieces and unknown treasures by artists such as Manuel Alvarez-Bravo, Hans Bellmer, Brassaï, Henri Cartier-Bresson, Man Ray, Vanessa Beecroft, Andy Warhol, Barbara Kruger, Vik Muniz and Nan Goldin.  Themes of 'Body', 'Masks and Faces', 'Words', 'Objects' and 'Space' generate confrontations and dialogues between artists of different periods and backgrounds.  Such a thematic approach serves to highlight subtle relationships and weave together the individual works.  A collection entitled such, is, in its own way, offering a definition of photography.  "Photography is not art", says Man Ray with a touch of humour and we are left to imagine or discover what it could be.  This unique and unprecedented event allows the audience to discover the full extent of the rich photographic collection of Sylvio Perlstein.
Catalog (EN/FR):
LA PHOTOGRAPHIE N'EST PAS L'ART. Collection Sylvio Perlstein, Editions Musée d'Ixelles, Bruxelles et Musée de la ville de Strasbourg
PAINTERS OF THE FORÊT DE SOIGNES. Garden of Brussels. 1850 -1950
29.10.2009 > 10.01.2010
In the second half of the 19th century, in response to heavy industrialisation, artists became increasingly interested in nature and found inspiration in the Brabant landscape, just as the Barbizon painters had in the forests of Fontainebleau.  Working outdoors, several groups made the forest a central subject: the Tervuren School, Red Monastery painters in Auderghem, the Valley of Artists in Linkebeek and a group of painters known as the Uccle Centre of Art.  As part of the centenary of the Society for the Protection of Nature or 'Friends of the Foret de Soignes' as it is also known, the Museum of Ixelles takes you on a wonderful forest stroll with landscape paintings ranging from 1850 to 1950.
Catalog (FR/DU):
Les peintres de la forêt de Soignes – De schilders van de Zoniënwoud 1850-1950, Emmanuel Van de Putte, Serge Goyens de Heusch, Bruxelles, Éditions Racine
Many other exhibitions have been organized at the Museum of Ixelles. For more information, contact 02/515 64 21/22.
> Check out the full list of available books at the Museum of Ixelles